Quirky and Unusual Things to Do in London | 47 Unique Activities
This article may contain affiliate / compensated links. For full information, please see our disclaimer here.
Here are 47 of the most quirky and unusual things to do in London by a local that will blow your mind. From visiting Neal's Yard, St. Dunstan in the East, God's Own Junk Yard, Leake Street Tunnel and more hidden gems in London.
Are you ready for the most quirky and unusual things to do in London? Here are 43 suggestions from a local to visit places like Neal's Yard, St. Dunstan in the East, God's Own Junkyard, Leake Street Tunnel, and more hidden gems in London.
London's big tourist attractions like Big Ben, London Eye, exhibitions and world-famous museums are definitely worth discovering.
Nevertheless, in a city with such a long history and a vibrant mix of cultures, there are so many more interesting, unique and obscure things to do in London.
They don't call the English eccentric for no reason.
Here, I've uncovered some of the most quirky and unique things to do in London for the next time you've got a few hours to spare in the city.
Be sure to keep an open mind and a childlike curiosity as you'll be visiting some of the more unusual places in London. But, of course, it will also be fun, entertaining and exciting!
If you're looking for more information on London or planning a trip to the Big Smoke, take a look at my London travel tips.
You'll definitely be able to impress your friends with some cool facts after visiting a few of the quirky places in London on this list.
Unusual Things to Do in London
If you're ready for a break from the normal tourist attractions in London, then a visit to these unusual places could be the ideal activity.
See the Ruins of St. Dunstan in the East
---
Address: St Dunstan's Hill, London EC3R 5DD
Located halfway between the London Bridge and the Tower of London, the church of St. Dunstan-in-the-East is an English parish church with lots of history.
Though the church was destroyed by the Blitz in 1941, its ruins and the Wren Tower have made it a charming and serene place. The old church has been overtaken by trees, ivy, white lilies dotted around the ruins, and lush green wall vines running along the walls.
St. Dunstan-in-the-East remains one of London's hidden gems and is now a public garden.
If you are looking for offbeat things to do in London, then visiting the ruins at St. Dunstan-in-the-East will not disappoint.
Serata Hall
Address: Old St, London EC1V 9NR
Serata Hall is a cool leafy tropical all-day restaurant and gin distillery that also serves coal-fired pizza and weekend bottomless brunch.
Serata Hall is also a great place to work or have a causal meeting because as they have hot desking.
Word On The Water
Address: Regent's Canal Towpath, London N1C 4LW
Word on the water is a quirky bookstore on a canal barge along Regent's Canal Towpath offering indoor and outdoor shelves for a wide variety of titles.
The unusual-looking boat, which is jam-packed with personality, features a variety of new and used books in addition to classics, cult, contemporary fiction, a broad range of children's books, and art and photography.
Mercato Mayfair
Address: St. Mark's Church, N Audley St, London W1K 6ZA
Mercato Metropolitano's second located, Mercato Mayfair, is a cultural center and sustainably run market in the Grade I-listed St Mark's Church in Mayfair.
Serving up authentic food, offering two floors of worldwide cuisine, a rooftop terrace, wine cellar and community space.
The location maintains Mercato principle by using fresh, handcrafted and locally sourced ingredients whenever feasible.
The Thames Barrier
The Thames Barrier is a stunning piece of architecture erected to protect the low-lying regions of Greater London from flooding. The barrier measures 520 meters in length and features ten moving steel gates. It was commissioned in 1982.
The fantastic engineering achievement allows the system to open and close depending on whether the water level is high or low. It's located about 3 kilometres or two miles east of the Isle of Dogs in Silvertown, not far from Canary Wharf and easily accessible if you're in the area.
Traffic Light Tree
The Traffic Light Tree created by French sculptor Pierre Vivant can be found near Billingsgate Market. The sculpture contains 75 sets of traffic lights and is 8 m (26 feet) tall.
It's simply about evoking the natural beauty of the London Plane Trees region while also hinting at the area's lively commercial and financial activity.
Visit Crystal Palace
Address: Crystal Palace Park, London SE19 1LH
Crystal Palace offers one of the most magnificent views of London from the South. This stunning cast iron and glass building was constructed in Hyde Park to house the Great Exhibition of 1851.
Though the building was destroyed in a fire in 1936, the destination still has loads in store for you, if you want to see London from a different perspective. The Crystal Palace is a foodie paradise with its Sunday Market, bars and vintage delights.
Look Around at God's Own Junkyard
Address: Unit 12, Ravenswood Industrial Estate, Shernhall St, Walthamstow, London E17 9HQ
Looking for wacky things to do in London? Then head down to God's Own Junkyard, which is one of the great unusual places to visit in London for free.
Located in East London, God's Own Junkyard is a kaleidoscope of handmade neon signs. This funky art gallery includes props used for fashion shoots, Chris Bracey's work for the movie industry, old Soho sex-shop signage, and even pieces that were used in Byzantium and Captain America.
The gallery contains bits of everything that combine to make it a genuinely colourful space. The collection currently has over 1,400 pieces of neon signs and art made at God's Own Junkyard workshop.
The yard also has its own café – The Rolling Scones Café. So, once you're done with your tour around the yard, you can grab a drink and snacks for some unique refreshments.
God's Own Junkyard is sure to fit the bill if you're an art lover looking for unusual London outings.
Take a Photo at Platform 9 ¾
Address: King's Cross, London N1 9AP
Platform 9 ¾ was the first Harry Potter shop to be opened outside of a themed visitor attraction.
Inspired by J. K. Rowling's Harry Potter series, Platform 9 ¾ is a fictional train platform located in King's Cross Station.
To catch the train to Hogwarts School of Witchcraft and Wizardry, Harry Potter and the other students must board the Hogwarts Express at Platform 9 ¾ (I am sure you all remember the scene in the first movie where all the kids run into the wall with their trolleys on platform 9 ¾).
Due to popular request, a train platform named Platform 9 ¾ was placed by King Cross Station authorities.
Visit the venue early so the professional photographer can take pictures of you with the luggage trolley embedded in the wall.
READ MORE | THINGS TO DO IN LONDON ALONE
Walk Through Leake Street Tunnel
Address: Leake St, London
Leake Street is one of London's hidden gems which celebrates urban art and entertainment. Its prominence is highlighted especially now as former railway arches inside the tunnel have been revamped to capture the essence of graffiti art and urban culture.
In 2008, Banksy held the first Cans Festival in the Leake Street Tunnel. This name was a play on the famous French film festival.
The first Cans Festival was a debut of the works of 29 famous street artists invited personally by Banksy, including one of the godfathers of stencil art, Blek le Rat.
Each artist covered a section of the wall in their own personal style, showcasing their work and starting a trend that changed the Leake Street abandoned tunnel forever.
Visit the Leake Street Tunnel to fuel your creativity and savour the opportunity to leave your mark on London. Also, check out the newly opened Leake Street Arches where you can grab some great grub from some of these cool restaurants.
The Leake Street Graffiti Tunnel might not be as well known as the Shoreditch and Camden Street art scene, but I highly recommend checking it out as one of the best unusual places to visit in London.
Visit David Bowie's Mural in Brixton
Address: 463 A23, London SW9 8BN
If you are a fan of the late great music legend David Bowie, why not visit the stunning memorial dedicated to him in his home town of Brixton? Seeing the mural is sure to be a special thing to do in London for those who adored this musician.
Painted just around the corner from where Bowie was born, the mural is as colourful and vibrant as the musician himself and was done by Australian artist James Cochran. The mural features Bowie as he appears on his 1973 album "Aladdin Sane".
The Bowie mural can be found directly opposite Brixton tube station, just off the main road. Watch my Youtube video to learn even more about the murals in Brixton and where you can find them.
See the Brixton Windmill
Address: Windmill Gardens, 100 Blenheim Gardens, London SW2 5DA
The Ashby's Mill (aka the Brixton Windmill) was built in 1816. From 1816 to 1862, the mill produced flour for restaurants and hotels in the West End.
The windmill was restored in 2011, and now there are free guided tours to the mill available from March to October. The Brixton Windmill and its surrounding area are just a few of the unusual places in London you can visit on your first trip to London.
READ MORE | HOW TO SPEND 24 HOURS IN LONDON
Walk High in the Sky Garden
Address: 20 Fenchurch Street, London EC3M 8AF
The Sky Garden is a unique space spanning three storeys which offers a 360-degree view of the city of London.
The public area was designed to create a vibrant green space where visitors have a rare chance to explore London from a different perspective.
Access to the Sky Garden is free of charge, but only a limited number of tickets are available daily. So, you can book a week ahead of your planned day of visit to explore the UK's capital in a beautiful and unusual new way.
See the Historic Pump in Soho
Address: 44 Broadwick St, Carnaby, London W1F 7AE
The Soho district was hit by a cholera outbreak in 1854, which caused the death of hundreds of its residents, until Dr Snow ultimately persuaded authorities at St. James parish to disable the pump by taking off its handle.
As a leader of medical hygiene and anaesthesia, and the one who linked the outbreak to the public water pump in Soho, the pump was named after John Snow.
There's even a pub nearby called John Snow (Games of Thrones fans will be lining up to drink here) where you can raise a glass in honour of the great doctor. If you're looking for unusual things to do in Soho, this definitely fits the bill.
See the Postal Museum & Post Office Railway
Address: 15-20 Phoenix Place, London WC1X 0DA
The Postal Museum was once used for the delivery of letters in times when there were two mail deliveries daily.
This automatic electric railway was created to carry Rail Mail deliveries into London at high speed, bypassing central London's congested streets. They found inspiration for this method in Chicago's subterranean freight train system.
Exploring the Post Office railway is a wonderfully original thing to do in London for railway lovers. A trip to the museum will take you through a theatrical experience, from the 100-year-old Post Office railway into the original underground tunnels.
Enter the Clink Prison Museum
Address: 1 Clink St, London, SE1 9DG United Kingdom
The 'Clink' is a popular nickname for 'jail' in London. The Clink was a prison in South Bank and operated from the 12th to the 18th century. It was one of England's oldest and most notorious prisons.
The prison is no longer in use, but if it's unusual London experiences you're after, you can visit the Clink, where actors in costume will show you around, bringing back glimpses of Clink's grisly past.
Check ticket prices for this walking tour of historical sites plus entry to the Clink.
See the Mosaic House
Address: 4-6 Fairlawn Grove, London W4 5EL
This house covered in brightly coloured tiles is owned by artist Carrie Reichardt. The mosaic project was started in the 90s and completed in 2017.
The house stands in the affluent area of Chiswick, covered in tiles that tell different stories. Many world-famous artists helped create this mosaic masterpiece.
The house is a few minutes' walk from Chiswick Park tube station. It is really a sight to behold and well worth a visit.
READ MORE | NON-TOURISTY THINGS TO DO IN LONDON
Walk Through the Greenwich Foot Tunnel
The Greenwich Foot Tunnel has gone relatively unnoticed by many in comparison to the famous Cutty Sark in Greenwich. This is one of the top free unusual things to do in London.
The foot tunnel is 50 feet deep and runs below the surface of the River Thames. Opened in 1902, the Greenwich Foot Tunnel was initially created as a way for workers living in South London to get to the Isle of Dogs from Greenwich without using the ferry.
The tunnel is now a shared-access cycle and pedestrian thoroughfare. Walking through the Greenwich Foot Tunnel may be a rather unusual experience for those who don't live in the area.
Entrances to the tunnel can be found near Cutty Sark (Greenwich side) and Island Gardens (Isle of Dogs side).
See Britain's Smallest Police Station
Address: Trafalgar Square, London WC2N 5DN
London's Lilliputian Police Station is tucked away in the southeast corner of Trafalgar Square.
If you're wandering around Trafalgar Square, you've probably walked right by it as there are no signs or shutter-happy tourists to draw your attention to it.
Built in 1920, it served as a watch post to keep an eye on Trafalgar Square's increasing protesters and marches.
The station was big enough for only one person and had a direct line to Scotland Yard. Today though, the station is simply used as a storeroom for cleaners.
Walk around Sir John Soane's Museum
Address: 13 Lincoln's Inn Fields, London WC2A 3BP
Sir John Soane was an architect and collector. He was well known for his ability to design notable buildings, including the original Bank of England.
He was also known to obsessively collect architectural ornamentations, artworks, and furniture.
He transformed his house into a museum in the nineteenth century, in what is now a fantastic Central London museum.
John Soane's Museum contains a variety of pieces, even from Ancient Egypt and Roman times. The museum is open to visitors for free from Wednesday to Sunday.
Tour Dennis Severs' House
Address: 18 Folgate St, London E1 6BX
The Dennis Severs' House is an original Huguenot house that displays a unique form of "dramatic still life" theatre.
Dennis redecorated the ten rooms of the house to recreate a close-up feel of life and a family home in Spitalfields between 1724 and 1914.
A tour around the Dennis Severs' House will guide you through the dining room, kitchen and smoking room before you are welcomed into the bedrooms upstairs.
Tours of the house take place on Thursdays to Sundays and require a booking.
Visit the London Transport Museum
Address: The Piazza, London WC2E 7BB
The London Transport Museum is one of the top attractions in the city and one of those unusual places to visit in London, as it brings the history of London's public transport network to life.
The museum appeals to people of different age groups and exhibits an impressive range of historic vehicles, plus prominent examples of the graphic design and poster art of London's famous transport network.
You can pick up an annual pass to the London Transport and other museums from their website, or buy a day pass here. All children and young people under 17 can enter for free.
Make Your Voice Heard at Speakers' Corner
Address: Hyde Park, London W2 2EU
Located in the northeast area of Hyde Park (nearest Marble Arch and Oxford Street), this site gained unofficial status as a "right to speak" area in 1872. Famous speakers like Orwell and Marx have even made their voices heard in this spot.
Speakers' Corner has since been considered a special free speech zone whenever demonstrations and protests are held in Hyde Park.
Speakers' Corner is referred to as the home of free speech as anyone can go there and make their voice heard. So long as the police consider your speech lawful, you too can speak on any subject.
Visiting Speakers' Corner in Hyde Park is an unusual thing to do in London, but it may be one of the most interesting things you'll witness in the Park.
Quirky Things to Do In London
If you're looking for crazy, weird, and totally fun things to do on your next outing, check out these quirky activities London has to offer.
Play at Ballie Ballerson
Address: 97-113 Curtain Rd, London EC2A 3BS
Ballie Ballerson is a quirky London venue like no other. With over one million balls, this magical place offers adult playground fun.
With its bottomless brunch offerings (read my guide on the best bottomless brunches in Shoreditch), you'll be treated to two hours of unlimited prosecco, unlimited pizza, and Pornstar Martinis.
If you're looking for crazy things to do in London, then jumping around in pink neon-coloured balls doesn't get any better. Head to Ballie Ballerson on time so you can eat and drink as much as you want while you play at the main glowing ball pit.
There are tons of other great things to do in this East London area, especially in Shoreditch and Brick Lane.
I love this hipster area of London so much I even made a Youtube video about it. Watch my Youtube video and let me know what you think in the comments.
Find the Seven Noses of Soho
The Seven Noses of Soho are hidden in plain sight around the Soho area of London. There were 35 noses created by artist Rick Buckley to highlight the surveillance society and increase of CCTV cameras around London.
You can even find one of the noses at the Instagram-worthy Milk Train in Soho, but you have to look carefully or you'll miss it. Searching for the noses of Soho is definitely a quirky thing to do in London.
Watch my things to do in Soho video, where you can get more information on the Seven Noses of Soho.
Have a Drink at Attendant Coffee Roasters
Address: 27A Foley St, London W1W 6DY
The Attendant Coffee Roasters has several cafés in London, but the one located at Fitzrovia in Central London is the one I would recommend visiting, because of its eccentric decor.
The coffee shop was a public toilet in Victorian times, and Londoners being the inventive types they are, the repurposed building now serves coffee in the old urinals.
If you're brave enough to try this weird thing to do in London, you'll know you're at the right place once you spot the wrought-iron entrance.
Kayak on the Thames
The Thames – one of the most iconic stretches of water in the world – is a great place to go on a kayaking trip. Kayaking not only allows you to explore the River Thames but offers a different view of the city.
Small groups go kayaking from the Houses of Parliament or Little Venice in Paddington. The guides are knowledgeable and experienced. This is a great out-of-the-ordinary activity to experience London in a new way.
Visit the Viktor Wynd Museum of Curiosities, Fine Art & UnNatural History
Address: Victoria Buildings, 11 Mare St, London E8 4RP
Once described as "the most wonderful collection of strange objects ever assembled under one roof" by The Fortean Times, the Viktor Wynd Museum is home to true wonders of nature, art, and curiosity.
Artworks here include Old Master Etchings, winged animals, two-headed lambs, polar bears, Dodo bones, modern British art, skeletons, and so much more.
The shop is a lifelong project of writer and artist Viktor Wynd. It hosts weekly workshops and lectures, and houses one of the lushest cocktail bars in London.
The Viktor Wynd Museum of Curiosities is certainly one of those quirky places to visit in London.
Eat a Rainbow Bagel at Beigel Bake
Address: 159 Brick Lane, London E1 6SB
You've probably read of Brick Lane's two notorious rival bagel shops, both competing to win customers with their offerings.
However, Beigel Bake has edged to the front of the race with its new rainbow offerings, sending hipsters and customers into a FOMO frenzy to get their hands on these rainbow bagels.
Though the rainbow beigels taste similar to the regular ones, they come with a unique feel of fruitiness that keep customers coming back.
You won't want to miss out on this quirky adventure — your Instagram feed will thank you for it.
READ MORE | THINGS TO DO IN BRICK LANE
Spend a Night at the Museum
Address: Cromwell Rd, South Kensington, London SW7 5BD
A sleepover at one of London's historical museums is a chance for a truly unconventional experience. And no, this isn't an activity for kids — these sleepovers are for adults only.
The "Dino Snores for Grown-ups" sleepover at the Natural History Museum kicks off with welcome drinks at the iconic Hintze Hall.
Then, you'll be camped next to Dippy the Diplodocus, a massive skeleton replica of one of the earth's most colossal animals.
You'll be treated to drinks, a three-course dinner, and live music. You'll also have the chance to sample several crunchy edible insects and dive into the museum's killer treasure hunt.
For more information about prices and available dates, check out the museum's website.
Visit Soho's Murder Mile
If you're ready for one of the most peculiar things to do in London, the murder mile walk is a guided tour of the most notorious murder cases in Soho.
The two-hour walk around Soho will reveal the facts behind the deaths that were swept under the carpets, as well as those that grabbed the headlines. That's 18 murders you'll explore in just 2 hours.
The tour is a fascinating way to uncover some of the most interesting crimes that took place in London. It is definitely one of the strangest things to do in London, though, and not for the faint of heart.
That said, those who enjoy a good mystery story will find it pretty cool and exciting to learn all the things the Ripper was up to in Soho.
Abseil at Olympic Park
Address: Queen Elizabeth Olympic Park, 5 Thornton St, London E20 2AD
Ready for an adrenaline-filled experience in London? There is little that can beat abseiling from the ArcelorMittal Orbit structure at the Olympic Park.
Take the plunge from the UK's highest free-fall abseil and see London in a unique way from 262 feet above the city.
The descent to the ground is exhilarating, with a distant view of iconic buildings such as Canary Wharf, St. Paul's Cathedral, Gherkin, Wembley Stadium and other London landmarks.
You can book your free-fall abseil tickets here.
Unique Things to Do in London
You don't need to visit the weirdest places in London or take part in crazy adventures if you're looking for something different. Check out these unique activities for a pleasant and fascinating day out.
Shop at Leadenhall Market
Address: Gracechurch St London EC3V 1LT
Leadenhall Market is a covered market in London. This beautifully designed Victorian marketplace is one of London's oldest markets.
Leadenhall Market is situated in what was the centre of Roman London and was originally a meat and poultry market. Sitting under its elegant roof are numerous restaurants, independent shops, flower, meat and cheese stalls, pubs and offices.
Owned and managed by the City of London Corporation, the market has been in existence since 1411, underlining its rich history and appeal. The cobbled floors and richly painted roof of Leadenhall Market, along with its central location, makes it a magical place to do some shopping.
Interesting fact: Diagon Alley scenes in Harry Potter and the Philosopher's Stone were filmed in Leadenhall Market.
This undiscovered London market is one of those beautiful and unique places to visit in London for the day.
Visit the Twinings Tea Shop
Address: 216 Strand, Temple, London WC2R 1AP
Everyone knows that the Brits love a good cup of tea more than anything, so it is fitting that a 300-year old flagship tea store sits pretty in the heart of London.
Twinings Tea Shop is the oldest tea shop in London and has undergone some significant changes since its opening in 1706.
Twinings has a long and fascinating history: it is not only one of the UK's foremost tea shops but has also been providing brews for the royal households since 1837. Queen Victoria granted the company a royal warrant.
A royal warrant is a very fancy title and is issued as a mark of recognition to people or companies who have regularly supplied goods or services to HM The Queen or the royal household.
A visit to this tea shop is bound to be a posh affair. Now all you need is to practice your best posh pout and remember to have your pinky up as you sip tea.
Take an East London Street Art Tour
Looking for artsy things to do in London? East London is home to some of the best street art in the world – and this has been the case for the last couple of decades.
The unique artworks paint the streets of Hackney, Camden and Shoreditch, showcasing artists from around the world and depicting the current socio-political and political climate.
From Banksy and Roa to Stik and Mr Cenz, the street art adorning the buildings of London will have you mesmerised.
If you're wondering where to start, book a street art tour with an expert guide to show you all the best street art spots in London.
Check out this 4-hour tour and workshop, where you not only learn about the different types of street art but also get a chance to test out your own spray-painting skills.
READ MORE | COOL THINGS TO DO IN SHOREDITCH
Shop at Burlington Arcade
Address: 51 Piccadilly, London W1J 0QJ
The Burlington Arcade is one of London's most beautifully adorned shopping streets. It was designed by architect Samuel Ware and opened in 1819.
The Burlington Arcade was the first shopping arcade in the world and is now recognised as a historic masterpiece. You'll have to see for yourself the intricate detailing of the ceiling and floors of this arcade to see why it is considered a masterpiece.
The street is now home to almost 50 shops ranging from small designers and pop-up cafés to luxury brands. It even has a select passageway!
If you'd like to visit the Burlington Arcade, opening hours are Monday to Saturday from 9:00 to 18:00 and Sunday from 11:00 to 18:00.
Visit the Columbia Road Flower Market
Address: Columbia Rd, London E2 7RG
The Columbia Road Flower Market is a street market adorned by hundreds of beautiful flowers, plants, and seeds.
The history, music, and unique atmosphere of the street attracts Londoners from all over. In my opinion, it is the prettiest Sunday market in London.
Columbia Road is one of the only streets in London whose shops have not yet been commercialised. If you're looking for different things to do in London, visit the flower market and its surrounding streets to see how everyday Londoners get down on Sundays.
Liven up your weekend by heading to the Columbia Road Flower Market to shop for shrubs, plants, and bulbs, and to see an exotic array of blooms.
Tour the London Mews Streets
Many visitors to London will miss out on some of the prettiest streets in London by not exploring the hidden Mews streets.
These unique streets filled with beautiful old houses line the back streets of London's most exclusive neighbourhoods like Notting Hill, Kensington, and Holland Park.
There are many of these hidden gems across the city. You can read my guide on the best London Mews streets and where to find them.
READ MORE | LONDON'S PRETTIEST MEWS TO SEE
Get on Board the Cutty Sark
Address: King William Walk, London SE10 9HT
One of the top attractions in Greenwich, the magnificent Cutty Sark is a celebrated historic ship which was the fastest of its time.
A visit to the ship will allow you to discover what life on board felt like, explore London's spectacular views from the deck of the vessel, and if you feel like it, enjoy afternoon tea in unique surroundings.
It is also a great time to learn about geography as there are maps, images, routes the ship took, information about sea voyages and video presentations via the complimentary audio guide. A tour around the Cutty Sark promises to be lots of fun.
Check the latest ticket prices here
See a Movie at an Outdoor Cinema
There's no better way to escape from the hustle and bustle of London City life than beneath the stars in one of the city's outdoor cinemas.
From hot tubs to rooftops, parks to barges, movies are screened in some of the coolest places in London. These interesting outdoor cinemas could also be a great idea if you're looking for slightly unusual things to do in London for couples.
Do a London Food Tour
If you want ideas for unique days out in London, an East London food tour should be at the top of your list. It shouldn't come as a surprise that London, and East London in particular, is well known for food tours.
Also known as the East End, this area of London accommodates several immigrant communities that have contributed to its impressive range of cuisine.
Brick Lane is one of the most popular neighbourhoods for food tours as it is adorned with several restaurants and quirky street art. This is also where you'll find some of the best curry houses in London.
Check the latest ticket prices here for a 4-hour food tour around East London, savouring 10 different food spots.
Visit Hampstead Heath
Just four miles away from Trafalgar Square, Hampstead Heath is a little village, and one of the wildest and largest green spaces in London.
The neighbourhood is filled with charming side streets, beautiful old houses, quaint cafés, a vast park, and offers an incredible view of London's skyline.
Hampstead is an excellent place to visit during autumn in London to see the lovely display of autumn colours.
Swim in the Hampstead Heath Ponds
There are several of these amazing open-air ponds in London that allow for quick dips no matter the season. You'll find some of the best outdoor pools in Hampstead Heath, which is great for open water swims all year round.
However, the opening and closing hours of the ponds here depend on the season, so ensure you check the website for the times.
Wander around Hampstead Pergola
Address: The Pergola, Inverforth Close, London NW3 7EX
The Hampstead Pergola has long since been a hidden gem in London, known only by wedding photographers and Londoners in the know.
With stone pillars draped in vines and exotic flowers, it provides a unique space for a quiet wander and a grand venue for photoshoots.
The garden opens daily at 8:30. Its closing times vary significantly throughout the year, so see the website for details.
Walk around Neal's Yard in Covent Garden
Address: Neal's Yard, Covent Garden, London WC2H 9DP
Neal's Yard London is one of the most colourful courtyards in London. If you are into holistic remedies and raw food, then Neal's Yard in Covent Garden should be on your list of top places to visit in London.
You can read my full guide on all the places to see at Neal's Yard, as well as the best Neal's Yard restaurant to try on your visit.
READ MORE | NEAL'S YARD COVENT GARDEN
Relax in Kyoto Garden
Address: Holland Park Ave, London W11 4UA
Amongst the many features of London's Holland Park is the beautiful Japanese garden gifted to the UK's capital by the city of Kyoto in 1991.
With its beautiful Zen lake, tiered waterfalls, and Japanese maple trees, the tranquil ambience of the Kyoto Garden will transport you to the Kyoto region in Japan.
The Kyoto Garden is one of the most peaceful unique experiences in London and offers something different to do in London's Holland Park.
The Garden is open from 7:30 and the nearest tube stations to get there are the Holland Park and Notting Hill stations.
Walk Through The Garden at 120
Address: 120 Fenchurch St, London EC3M 5BA
One of the most beautifully unique places in London to see comes in the form of the city's newest rooftop garden at 120 Fenchurch Street. This suspended pocket park lives 15 floors high, atop One Fen Court.
The rooftop garden opened in February 2019. Free to visit, this towering terraced area offers breathtaking views over much of the City of London.
You can head there to see 360-degree panoramic views of iconic attractions such as Gherkin, Tower Bridge and St. Paul's Cathedral.
Ready to Explore Some Unusual Things to Do in London?
I hope you liked this list of quirky and unusual things to do in London. Now it's your turn to pick something from the list and head out to explore this fascinating city.
---
---
If you liked this post share the love and PIN IT!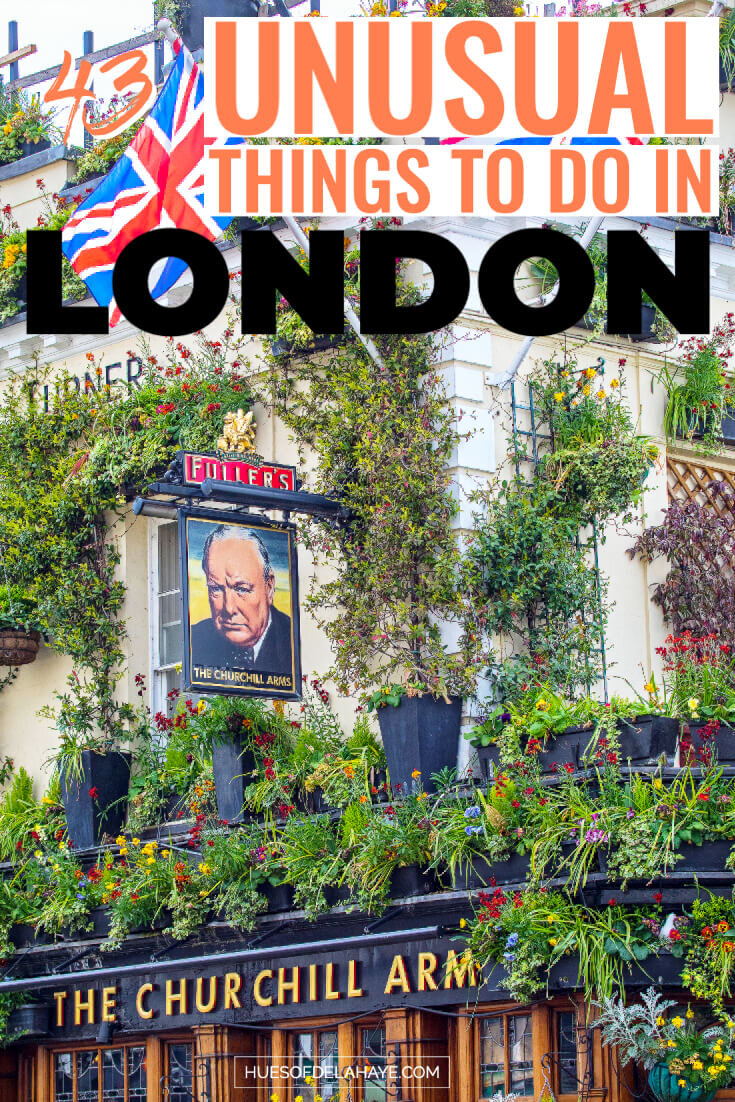 ---